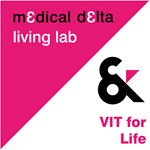 Growing demand is putting our healthcare system under increasing pressure. Prevention is better than cure, so it is no surprise that more and more attention is being paid to prevention. Unfortunately, health apps and other innovations that promote health are not reaching everyone. Medical Delta Living Lab VIT for Life focuses on keeping people with an increased risk of lifestyle-related symptoms healthy.
Not everyone receives equal care
The Dutch healthcare system is designed to ensure that everyone receives equal care, as far as possible. But in practice, the system is more unruly: not everyone finds their way to good healthcare. This also applies to preventive innovations that promote health: inaccessible or complicated technology stands in the way of widespread use. For example, in their consulting rooms, general practitioners and physiotherapists are often unable to encourage people with lifestyle-related health problems to change their behavior, so they have asked VIT for Life to develop an alternative approach.
Healthier population, lower healthcare costs
Medical Delta Living Lab VIT for Life focuses on developing, evaluating and implementing long-lasting effective, personalized and context-dependent social and technological innovations. The lab is committed to making apps that encourage healthy food choices and sufficient exercise, ensuring they are also user-friendly. They work on embedding these apps in a broader range of interventions, integrating them into daily life, and training users and healthcare professionals to use them. End users play an important role in the development and customization of the apps.
At Medical Delta Living Lab VIT for Life, Rotterdam University of Applied Sciences, The Hague University of Applied Sciences, Stichting WMO Radar and Kinderfysiotherapie Regio Westland work together with patients and companies. The Living Lab also collaborates with universities affiliated with Medical Delta.
The Medical Delta Living Labs form a crucial link in the healthcare innovation chain. They test the promising technological healthcare solutions of companies and care institutions with healthcare professionals and patients in real-life environments. Practical questions form the foundation for the public-private projects that the Living Labs take on. The interdisciplinary nature of the work is characteristic of the Living Labs' approach: health lecturers collaborate with technology lecturers from other universities of applied sciences. They conduct their research together with end users, healthcare institutions and companies, and through this collaboration, the Living Labs have a social and economic impact on the region. The Living Labs also provide a bridge to research carried out at Medical Delta's academic knowledge institutions.