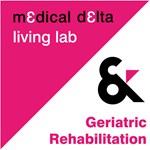 As the population ages, the pressure on geriatric rehabilitation care increases and there is a greater need for specialist medical rehabilitation. In addition, rehabilitation care is increasingly moving towards the patient's home. e-Health applications can significantly relieve pressure and improve care; this gives patients and their informal caregivers new opportunities.
Medical Delta Living Lab Geriatric Rehabilitation@Home focuses on the development of e-health applications that promote home rehabilitation for elderly people.
Rehabilitation: a task for the elderly patient, therapist and caregiver
For many elderly people, following a rehabilitation program at a care institution is a major challenge. The patient must be taken to and picked up from the rehabilitation site, and when on location, the time frame for rehabilitation is limited. Various e-health applications can provide a solution, but how do they best meet the needs of patients, practitioners and caregivers? Which applications work well, for whom, and when?
The right care in the right place
Medical Delta Living Lab Geriatric Rehabilitation@Home promotes the self-management and quality of life of elderly people who rehabilitate at home and supports informal caregivers through e-health. The lab focuses on developing applications that support caregivers, measure vital functions remotely and provide personalized and integrated physical, social and psychological care.
The Living Lab investigates, among other things, barriers to the implementation of e-health applications for older rehabilitation patients and explores how these barriers can be removed. Testing takes place in practice and in collaboration with elderly people, their informal caregivers and healthcare professionals from hospitals, nursing homes, rehabilitation centers and home care organizations. Key elements are knowledge development, knowledge exchange and cooperation between colleges, universities and healthcare institutions. Medical Delta Living Lab Geriatric Rehabilitation@Home plays a decisive role in making e-health more widely applicable for rehabilitation care for elderly people at home.
At Medical Delta Living Lab Geriatric Rehabilitation@Home, Inholland University of Applied Sciences, The Hague University of Applied Sciences, Rotterdam University of Applied Sciences and Stichting Omring work together with companies, care institutions, informal caregivers and elderly people. The Living Lab also works on a project basis with researchers from academic knowledge institutions
The Medical Delta Living Labs form a crucial link in the healthcare innovation chain. They test the promising technological healthcare solutions of companies and care institutions with healthcare professionals and patients in real-life environments. Practical questions form the foundation for the public-private projects that the Living Labs take on. The interdisciplinary nature of the work is characteristic of the Living Labs' approach: health lecturers collaborate with technology lecturers from other universities of applied sciences. They conduct their research together with end users, healthcare institutions and companies, and through this collaboration, the Living Labs have a social and economic impact on the region. The Living Labs also provide a bridge to research carried out at Medical Delta's academic knowledge institutions.