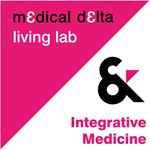 Medicines and clinical procedures can, in many cases, improve your health and well-being. However, there are health issues for which regular medicine has insufficient (good) solutions – think about common symptoms associated with chronic diseases, such as pain or sleeping problems, or the problem of antibiotic resistance.
Medical Delta Living Lab Integrative Medicine Technology addresses these health issues through research on non-pharmacological, integrated prevention and treatment approaches, such as using natural products or developing a healthier lifestyle.
Increasing interest, but a lack of reliable information and knowledge
'Integrative medicine' or 'integrated care' involves the 'best of both worlds' by integrating traditional and complementary treatment methods, and these approaches are garnering increasing social and scientific interest. However, their use in healthcare is still limited. Reasons for this include a lack of reliable and findable information about the (cost) effectiveness, the mechanisms of action and the safety of integrative medicine, as well as patients' experiences of it. There is also a lack of knowledge and skills to apply integrative medicine on an individual level and measure and evaluate its effects on each person. Finally, there is limited possibility when it comes to the rapid, technical identification of promising interventions, such as the use of natural agents for infectious diseases.
Broader application of integrative medicine possible through technological solutions
In order to make integrative medicine responsibly accessible, acceptable and available at a larger scale , the barriers must be broken down quickly and effectively.
For example, antibiotic resistance is a growing problem, so it is important to reduce antibiotic use where possible. Medical Delta Living Lab Integrative Medicine Technology investigates how eHealth solutions can be developed and used for the responsible application of natural medicines for infections and fever management. Integrative medicine also provides possibilities in the form of technological solutions for chronic diseases or pain relief. Healthcare professionals, patients and researchers work together in the Living Lab to find and validate these solutions.
The promises of integrative medicine are fulfilled more concretely with technological solutions such as decision aids, monitoring tools to measure effects at an individual level, and metabolomics tools to identify promising natural agents in the laboratory. Ultimately, the technological solutions that are developed can be further investigated in clinical research and entrepreneurs can take them to market.
University of Applied Sciences Leiden, University of Applied Sciences Rotterdam, NVAA and Cure + work in this Living Lab together with patients, healthcare professionals and companies. The Living Lab also works on a project basis with researchers from academic knowledge institutions.
The Medical Delta Living Labs form a crucial link in the healthcare innovation chain. They test the promising technological healthcare solutions of companies and care institutions with healthcare professionals and patients in real-life environments. Practical questions form the foundation for the public-private projects that the Living Labs take on. The interdisciplinary nature of the work is characteristic of the Living Labs' approach: health lecturers collaborate with technology lecturers from other universities of applied sciences. They conduct their research together with end users, healthcare institutions and companies, and through this collaboration, the Living Labs have a social and economic impact on the region. The Living Labs also provide a bridge to research carried out at Medical Delta's academic knowledge institutions.